Well, before we begin the history of Real Oldies 97.9 The WREN in Charlottesville, we should pay some homage to the original WREN which was first licensed to Lawrence, Kansas. It founded in 1926 as a service of Bowersock Mills and Power Company whose owner, R.C. Jackman, founded WREN to promote their 'Jenny Wren' flour brand. The station's call sign came from the original city of license name, 'LaWRENce'. 'As a service of' was actually quite correct as all radio stations were non-commercial in 1926 save for AT&T's WEAF in New York City which was an experiment in 'Toll' (commercial) broadcasting.
WREN moved to Topeka in 1952. For several decades, it was owned by former Kansas Governor and 1936 Presidential candidate Alf Landon and his family. During this period the station had a Top 40 format. Some of the original WREN announcers from this era may be found on 'WREN Radio' an internet radio station located in Topeka. WREN was later sold and went off the air in 1988. Unfortunately, WREN was the only radio station in Topeka not to have an FM partner. WREN returned to the air as Gospel station from 1992 to 1997 before it's frequency was moved to Kansas City where it is today Spanish formatted KYYS.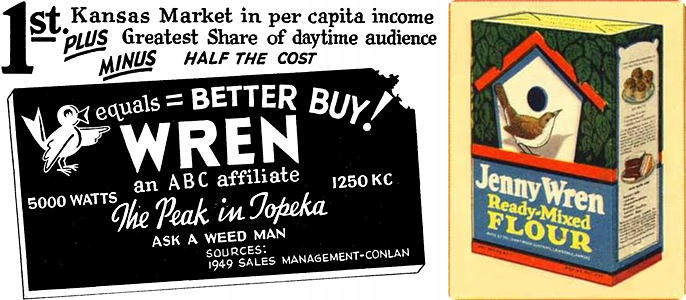 Flash forward to 2011 – That was the time when the planning for what became WREN in Charlottesville came into being. There had been a falling out between members of the 91.9 WNRN radio Board of Directors. WNRN founder Mike Friend started planning a new rock station at this time. Jon Hall, one of the other WNRN Directors on the 'losing' side also decided to apply for a frequency. Additionally, Jaquon Middleton who was the manager of the WNRN late night Rap and Hip-Hop show became interested too. Jeff Lenert who worked in the news department of WNRN also decided to apply for a frequency. Originally, these last two stations were going to operate on a shared time basis on 94.7. Happily there was a filing window for new Low Power FM (LPFM) stations in October 2013. There have only been two of those ever. While the resulting stations are each independently owned and operated, to save on expenses, an umbrella group was founded called the 'Virginia Radio Coop' to divide office and transmitter site rent, office, and some other technical expenses. The Coop and all four stations (WREN, WXRK, WVAI, and WPVC) are located in the Seminole Square Shopping Center in Charlottesville.
At first, WREN was going to be WKMZ which would have had a Classic Country and Blue Grass format.  That idea fell apart in 2015 when two Charlottesville stations went to Country and Classic Country formats within a week of each other.  After some detective work it was discovered that the WREN call sign was available although it was listed as being unavailable in FCC records.  Oldies was our drop back format which became a very happy situation.  WKMZ remained the call sign of our Ruckersville simulcast partner which was on 96.5 FM.  The WKMZ simulcast ended on October 10, 2019 at 3:05 PM. The corporate name for WREN is 'Genesis Communications, Inc.'
WREN first signed on March 14, 2016. The event was quite unceremonious! Jon Hall, the General Manager, Engineer, and only station employee simply left the station on one night after deciding that the studio was generally complete! The first programming was provided by a five disc CD player. Later a 100 and then a 200 disc player were found. That was our programming effort for the first six weeks or so until our Wide Orbit automation system was brought on line. After that, we were automated with the exception of 3-7 PM when Jon was on the air. Dan Thomas started doing 12-3 PM on Monday and Tuesday. Within a short time, Ben Chambers began doing the 6-10 AM show. Dan, our very first volunteer handles 12-3 PM on Saturday and Sunday today (Thank You Dan!) We also added the syndicated 'Breakfast With The Beatles' show in late 2016.
In 2017, Mike McB took over the morning show. Mike is the Operations Manager and Volunteer Coordinator. At that point we were extremely fortunate to have some very good people come on board! Nora Gail was the first handling the 10-12 Noon shift. We then had the very musically knowledgeable Murphy come on board. Nora decided that she could only handle Monday through Thursday. Almost immediately Mike McB and Murphy decided to produce the 'Mike & Murphy feature Friday Special' which has proven to be pretty popular! Murphy is our Music Director.
During 2018 we had Aimee D. for a short time working with Mike McB and then on her own from 7-10 PM. Aimee left but very soon afterwards two great people came on. They were Peter Quist and John Henrie. Peter was on from 7-9 PM and John Henrie from 9-11 PM. John left at the end of 2018. Peter now does the 7-11 PM night shift. We also had Chris Connors who was a personality in the Washington, DC market for 30 years come on board. Chris produces 'Back Seat Memories' Sunday nights from 7-10 PM. This is the continuation of a show that he ran in DC for years. We also air and encore of his show on Saturday night.
During 2018 we began podcasting 'Mike & Murphy Feature Friday Special' and then 'Chris Connors Back Seat Memories' show. Both may be found at '979WREN.org'.
In 2019, Nancy B. has come to work with Mike McB in the mornings. We have also added the 'Greatest Hits USA syndicated program on the weekends and received a minor power increase in February.
We very much want to thank the volunteers both past and present who make WREN the station that it is! Radio is about people. You the listener, our underwriters, and the wonderful staff which we are truly blessed to have make WREN a great radio station!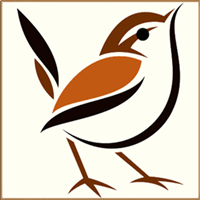 97.9 WREN Radio
Seminole Square Shopping Center
294 Hillsdale Dr.
Charlottesville, VA. 22901

Office: 434-817-2662
Studio: 434-817-9798