We started building this page on April 14, 2019. We will be adding to it here weekly moving the weekly front page listing to this page.
The Birthdays which we will be listing here are performers primarily from the 1950's to the 1980's. We will be listing some important composers and producers and some performers of significant influence from both before and after our target time period of 97.9 WREN programming too. In a few cases, very important artists outside of the primary 'pop-rock' genre will be listed as well.
The artists name links to their website or their Wikipedia page. The link will open in a new page. If a date isn't listed, we have not found a significant birthday for that date.
WREN Monthly music Birthday lists:
May 1:
Rita Coolidge (May 1, 1945), Singer and songwriter who won 2 Grammy Awards with then-husband Kris Kristofferson. Hits include '(Your Love Keeps Lifting Me) Higher and Higher', 'We're All Alone', and others.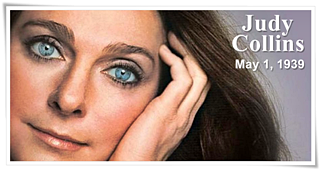 Judy Collins (May 1, 1939), Singer, songwriter, and social activist know for her wide range of music recordings including folk, rock, and show tunes. Has won 4 Grammy Awards including on for her biggest hit 'Both Sides Now'. Her recording of 'Amazing Grace' selected for preservation by The Library of Congress.
Sonny James (Jimmie Hugh Loden) (May 1, 1928 – Feb 22, 2016), Country music singer and songwriter best known for his 1957 hit, 'Young Love'. Had 72 pop and country charted hits including 26 #1 country hits. Known as the 'Southern Gentleman'. Country Hall of Fame inductee (2007).
Big Maybelle (Mabel Louise Smith) (May 1, 1924 – Jan 23, 1972), Singer who had an R&B hit with 'Whole 'Lotta Shakin Goin On' in 1955 two years before Jerry Lee Lewis had his version. Her 1956 hit 'Candy' received the Grammy Hall of Fame Award in 1999.
Ray Parker, Jr. (May 1, 1954), Guitarist, singer-songwriter, record producer, and actor, best known for writing and performing the #1 hit theme song to the 1984 movie Ghostbusters, for his solo music, and for performing with his band, Raydio, and with Barry White as well.
May 2:
Lesley Gore (Lesley Sue Goldstein) (May 2, 1946 – Feb 16, 2015),
Singer, songwriter, actress, and activist. Recorded the #1 hit 'It's My Party' when she was only 16 and followed it up with 'Judy's Turn to Cry', 'Sunshine, Lollipops and Rainbows', 'She's a Fool', 'You Don't Own Me', 'Maybe I Know' and 'California Nights'. Nominated for an Academy Award for a song she wrote with her brother for the movie 'Fame'.
LinkWray (May 2, 1929 – Nov 5, 2005), Influential Shawnee guitarist, songwriter, and vocalist known for his 1958 instrumental hit 'Rumble' by Link Wray & His Ray Men. Nominated to the Rock Hall in 2013 and 2017. 'Rumble' the song was inducted into the Rock Hall.
May 3: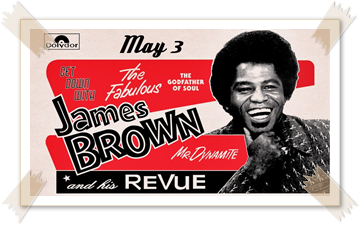 James Brown (May 3, 1933 –Dec 25, 2006), Seminal American soul, pop, and rock singer, songwriter, bandleader, and social activist. A progenitor of funk music and a major figure of 20th-century music and dance Known as the 'Godfather of Soul'. He is ranked No. 7 on Rolling Stone's list of its 100 greatest artists of all time.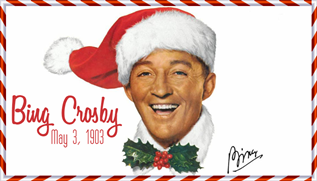 Bing Crosby (Harry Lillis Crosby) (May 3, 1903 – Oct 14, 1977), Singer, actor, radio and television star, and Academy Award winner. Crosby was a leader in record sales, radio ratings, and motion picture grosses from 1931 to 1954. Influential in the development of the postwar recording industry especially with regard to magnetic tape technologies for audio and video.
Christopher Cross (May 3, 1951), Singer-songwriter who won 5 Grammy Awards for his significant 1979 debut album. The singles Sailing', and 'Arthur's Theme (Best That You Can Do)' (from the 1981 film Arthur) peaked at #1. 'Sailing' earned 3 Grammys in 1981, while 'Arthur's Theme' won the Oscar for Best Original Song in 1981.
Mary Hopkin (May 3, 1950), Welsh folk singer who is best known for her songs 'Those Were The Days' and 'Goodbye'.
Pete Seeger (May 3, 1919 –Jan 27, 2014), Folk singer, songwriter, social activist, and member of The Weavers. Career damaged unfairly by the 50's Blacklist era. Best-known songs include 'Where Have All the Flowers Gone?' (with Joe Hickerson), 'If I Had a Hammer (The Hammer Song)' (with Lee Hays of the Weavers), and 'Turn! Turn! Turn!'.
Pete Staples (May 3, 1944), English musician and the original bassist of The Troggs. Hits include the #1 'Wild Thing', 'With a Girl Like You' and 'Love Is All Around'.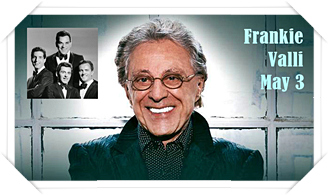 Frankie Valli (Francesco Castelluccio) (May 3, 1934), Singer and actor. Leader of The Four Seasons. Had 29 Top 40 hits with The Four Seasons, one under The Four Seasons alias The Wonder Who?, and nine as a solo artist.
Bobby Vee (Robert Velline ) (April 30, 1943 – Oct 24, 2016), Singer, song writer, actor, and teen idol who had 10 Top 20 and 6 Gold singles. Rockabilly and Hit Parade Halls member.
May 4: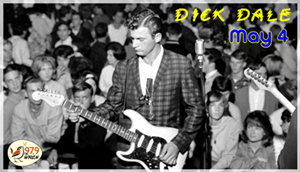 Dick Dale (Richard Monsour) (May 4, 1937 – March 16, 2019), Rock guitarist and a pioneer of surf music, drawing on Middle Eastern music scales and experimenting with reverberation. Dale was known as 'The King of the Surf Guitar'. He helped to develop equipment that was capable of producing a louder guitar sound without sacrificing reliability. Inductee to the Musicians Hall of Fame.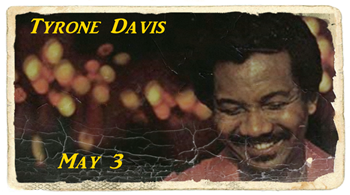 Tyrone Davis (May 4, 1938 –Feb 9, 2005), Blues and soul singer with many R&B hits including the Top 10 'Can I Change My Mind' and 'Turn Back The Hands Of Time'.
Jackie Jackson (Sigmund Esco Jackson) (May 4, 1951), Singer, songwriter, and a founding member of the Jackson 5. Jackie is the second child of the Jackson family and the oldest Jackson brother.
Nickolas Ashford (May 4, 1941 – Aug 22, 2011), was an American R&B singer and songwriter who formed Ashford & Simpson with his wife, Valerie Simpson. They had the 1985 hit 'Solid' and wrote hits such as: 'Ain't No Mountain High Enough', 'You're All I Need To Get By', 'Ain't Nothing Like the Real Thing', and 'Reach Out and Touch (Somebody's Hand)' .
May 5
Johnnie Taylor (May 5, 1934 – May 31, 2000), Three time Grammy Award nominated recording artist and songwriter who performed a wide variety of genres. His hits include 'Who's Making Love', 'Disco Lady' and others..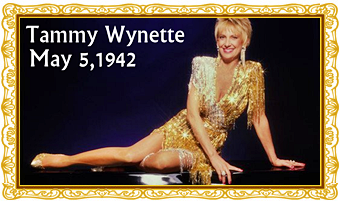 Tammy Wynette (Virginia Wynette Pugh) (May 5, 1942 – April 6, 1998), Country music singer and songwriter and one of country music's biggest-selling female singers. Known as the 'First Lady of Country Music'. Her song, 'Stand by Your Man', is one of the best-selling hit singles by a woman in the history of country music.
Adele (Adelle Laurie Blue Adkins) (May 5, 1988), English singer-songwriter who has earned 15 Grammy awards, 21 entries in the Guinness Book of World Records, and is a member of the 'Most Excellent Order of the British Empire' (MBE).
May 6
Ace Cannon (May 5, 1934 – Dec 6, 2018), Saxophonist aho played and toured with Bill Black's combo, starting a solo career with his #17 hit 'Tuff' in 1962, with the Black combo backing. Inducted into both the Rock, Soul, and Rockabilly Halls of Fame.
Leon Hughes, (May 6, 1932), Last surviving original member of The Coasters. His tenor voice is heard on many of the group's hits, including 'Searchin' and 'Young Blood'. He left the group in 1958.
Davey Johnstone (May 6, 1951), Scottish guitarist and vocalist, best known for his work with Elton John. Debud with Elton John in 1972. In 2009, he played a landmark 2,000th show as a member of the Elton John Band.
Mary MacGregor (May 6, 1948), Singer who is best known for the 1976 song 'Torn Between Two Lovers'. She did not like her own hit as she had no sympathy for the songs narrator.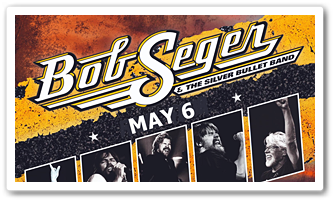 Bob Seger (May 6, 1945), Singer, songwriter, guitarist and pianist who has sold more than 75 million records. Inducted into the Rock and Songwriters Halls. Named Billboard's 2015 Legend of Live honoree.
May 7
Teresa Brewer (May 7, 1931 –October 17, 2007), Traditional pop singer who recorded over 600 songs. Had many mostly pre-rock 50's hits.
Bill Danoff (May 7, 1946), Singer-Songwriter known for the 1976 #1 hit 'Afternoon Delight', which he wrote and performed as a member of the Starland Vocal Band. Also wrote hits for John Denver, including 'Take Me Home, Country Roads'. He won 2 Grammys for 'Afternoon Delight'.
Thelma Houston (May 7, 1946), Singer and actress who had the 1977 #1 hit 'Don't Leave Me This Way' for which she won a Grammy.
Keith (James Barry Keefer) (May 17, 1949), American vocalist known for the 1967 #7 hit, '98.6'. He legally changed his name to Bazza Keefer in 1988, in memory of his mother.
Bill Kreutzmann (May 7, 1946), Drummer who played with the Grateful Dead for its entire 30 year career, usually alongside fellow drummer Mickey Hart. He continues to perform with former members of the 'Dead'.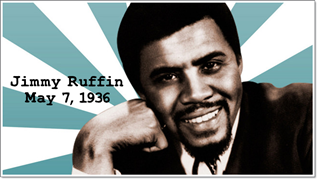 Jimmy Ruffin (May 7, 1936 – Nov 17, 2014), Soul singer, and brother of David Ruffin of The Temptations. He had hits between the 60s and 80s, including 'What Becomes of the Brokenhearted' and 'Hold On (To My Love)'.
Pete Wingfield (May 7, 1948). English record producer, keyboard player, songwriter, singer and music journalist who had the 1975 #15 (#7 UK) single 'Eighteen With A Bullet'.
May 8
Philip Bailey (May 8, 1951), R&B, soul, gospel and funk singer, songwriter and percussionist best known as an early member, and one of the lead singers of Earth, Wind & Fire. He has won 7 Grammy's and is an inductee into the Rock, Vocal Group, and Songwriters Halls of Fame.
John Fred (Gourrier) (May 8, 1941 – April 14, 2005), Blue-eyed soul, swamp pop, rock and roll, and R&B performer from Baton Rouge best known for the 1967 #1 hit song 'Judy in Disguise (With Glasses)'; a novelty play on the Beatles song 'Lucy in the Sky with Diamonds'.
Robert Johnson (May 8, 1911 – Aug 16, 1938), American blues singer, songwriter and musician. Eric Clapton called Johnson 'the most important blues singer that ever lived.' Bob Dylan, Keith Richards, Robert Plant , and Fleetwood Mac have been influenced by his music. One of the first inductees into the Rock Hall. Won 2 post humus Grammy's and was ranked fifth in Rolling Stone magazine's '100 Greatest Guitarists of All Time' in 2003.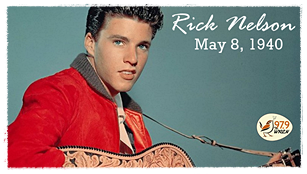 Ricky (Rick) Nelson (Eric Nelson) (May 8, 1940 – Dec 31, 1985), Rock and roll star, musician, and singer-songwriter. From age 8 he starred with his family in the radio and television series The Adventures of Ozzie and Harriet. He had 53 songs on the Top 100, between 1957 and 1973, including Poor Little Fool' in 1958, which was the first #1 song in Billboard's then new Hot 100 chart. Rock Hall member.
Cathryn Antoinette "Toni" Tennille (May 8, 1940), Singer-songwriter and keyboardist, best known as one-half of the 1970's duo Captain & Tennille with her former husband Daryl Dragon; their signature song is 'Love Will Keep Us Together'.
May 9
Sonny Curtis (May 9, 1937), Singer-songwriter who was a friend and band member with Buddy Holly Later a ember of the Crickets. Wrote 'I Fought the Law'; a hit for the Bobby Fuller Four. Member of the Musicians Hall.
Don Dannemann (May 9, 1944), Guitarist and co-lead singer (with
Tom Dawes ) of The Cyrkle who had the hits 'Red Rubber Ball' and '"Turn-Down Day' Was later a jingle writer who wrote the 7Up 'Uncola' song.
Nokie Edwards (May 9, 1935 – March 12, 2018), Musician and member of the Rock Hall. Best known for his work with 'The Ventures'.
Richie Furay (May 9, 1944), Singer-songwriter, and Rock Hall member who formed 'Buffalo Springfield', 'Poco', and the 'Souther Hillman Furay' Band.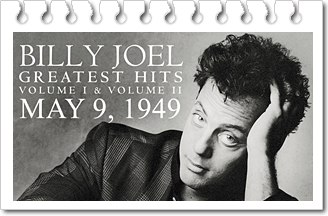 Billy Joel (May 9, 1949), Singer-songwriter, composer and pianist who has been making music since the 1960s, releasing albums from the 70's, to the 90's. Joel produced 33 self composed Top 40 hits in the US, including 3 #1 hits. He has won 6 Grammy's selling over 150 million records worldwide. Rock and Songwriters Hall member. Knight of the British Empire (KBE).
Dave Prater (May 9, 1937 – April 9, 1988), Southern soul and R&B singer and musician of the soul vocal duo Sam & Dave who had the #2 hit 'Soul Man'. He is an inductee of the Rock, Grammy, Vocal Group, and Georgia Music Halls, and a Grammy and multiple Gold Record winning artist.
Danny Rapp (May 9, 1941 – April 3, 1983), Musician and front man for 'Danny & the Juniors'. The group is best known for their 1958 hit At the Hop.
Tommy Roe (May 9, 1942), Pop music singer-songwriter who is best known for his hits 60's #1 hits Sheila and Dizzy among several others.
Hank Snow (May 9, 1914 – Dec 20, 1999), Canadian country singer-songwriter. During an over 50 year career, he recorded 140 albums and had 85 singles on the country charts. In 1954, Snow persuaded the
Grand Ole Opry to allow Elvis Presley to appear on stage. Snow used Presley as his opening act and introduced him to Colonel Tom Parker. In the end he had no respect for Tom Parker. Country and Canadian Music Hall member.
May 10
Fred Astaire (May 10, 1899 – June 22, 1987), Singer, actor, and dancer who is widely regarded as the most influential dancer in the history of film.
Bono, (Paul Hewson) (May 10, 1960), Irish singer-songwriter, musician, and philanthropist. He is best known as the lead vocalist and primary lyricist of rockband U2. Has won 22 Grammy's and is a Rock Hall of Fame member.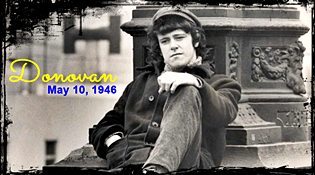 Donovan (Donovan Philips Leitch) (May 10, 1946), Scottish singer, songwriter and guitarist. Major hits include the #1 'Sunshine Superman', the #2 'Mellow Yellow', 'Hurdy Gurdy Man', #5 'Catch The Wind', and #7 'Atlantis'. Rock and Songwriters Halls member.
Henry Fambrough (May 10, 1938), One of 3 original vocalist and current member of the 'The Spinners'. He is the last surviving original member. Had the single 'Working My Way Back To You' and many more.
Jay Ferguson (May 10, 1947), Rock/pop musician known for his work with Spirit and Jo Jo Gunne, and his 1978 solo hit Thunder Island. He is also a composer of music for television programs and films.
Graham Gouldman (May 10, 1946), English singer, songwriter and musician who has been the only constant member of 10cc.
Dave Mason (May 10, 1946), English singer-songwriter and guitarist who was a member of the Rock band 'Traffic'. Has played with many famous musicians. Had the 1977 hit 'We Just Disagree'. He is a Rock Hall member.
Larry Williams (May 10, 1935 – Jan 7, 1980), R&B and Rock 'N Roll singer, songwriter, producer, and pianist. 'Bony Moronie', 'Short Fat Fannie', 'Slow Down', 'Dizzy, Miss Lizzy', 'Bad Boy' and 'She Said Yeah'. John Lennon was a fan. The Beatles and other British Invasion groups recorded his songs.
May 11
Tony Barrow (May 11, 1936 – May 14, 2016), Press officer who worked with the Beatles between 1962 & 1968. He coined the phrase 'The Fab Four' and developed the idea of recorded Beatles fan club Christmas greetings.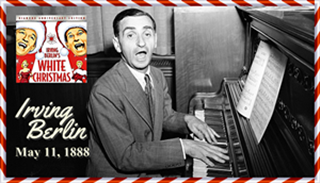 Irving Berlin (May 11, 1888 –Sept 22, 1989), Composer and lyricist, widely considered one of the greatest songwriters in American history. Berlin's songs have reached the top of the charts 25 times and have been extensively re-recorded by numerous singers including modern artists such as Linda Ronstadt, Cher, Bob Dylan, Diana Ross, Jerry Garcia, Willie Nelson, Michael Buble, Lady Gaga, and Christina Aguilera.
Eric Burdon (May 11, 1941), English singer-songwriter and actor. Vocalist of rock band 'The Animals' and funk band 'War'. In 2008, he was ranked 57th in Rolling Stone's list The 100 Greatest Singers of All Time.
May 12
Burt Bacharach (May 12, 1928), Composer, songwriter, record producer, pianist, and singer who has composed hundreds of pop songs from the late 50's through the 80s, many in collaboration with lyricist Hal David. He has won 6 Grammys and 3 Academy Awards, His songs have been recorded by more than 1,000 artists. As of 2014, he had written 73 US and 52 UK Top 40 hits.He is considered one of the most important composers of 20th-century popular music.
James Purify (May 12, 1944), James & Bobby Purify were an R&B singing duo, best know for their 1966 #6 hit 'I'm Your Puppet'.
Ian McLagan (May 1945 – Dec 2014), English keyboard instrumentalist, member of the English bands Small Faces and Faces. Rock Hall inductee.
Billy Squier (May 12, 1950), Rock musician and singer. He is best known for the 1981 hit 'The Stroke'.
Billy Swan (May 12, 1942), Country singer-songwriter, best known for his 1974 single, 'I Can Help'.
Norman Whitfield (May 12, 1940 – Sept 16, 2008), Songwriter and producer. Worked with Berry Gordy's Motown labels in the 60's. He is one of the creators of the Motown Sound and subgenre of psychedelic soul. He wrote or co-wrote 61 UK and 92 US hits by artists such as the Temptations. Inducted into the Songwriters Hall with lyrical collaborator Barrett Strong.
Steve Winwood (May 12, 1948), English singer and musician. Key member of The Spencer Davis Group, Traffic, Blind Faith and Go. As a solo artist, he had several hits including the #1s, 'Higher Love' and 'Roll with It'. In 2008, Rolling Stone ranked him as #33 in its 100 Greatest Singers of All Time. He has won two Grammys and was inducted into the Rock Hall.
May 13
Ritchie Valens (Richard Valenzuela) (May 13, 1941 – Feb 3, 1959), Singer, songwriter, guitarist, rock and roll pioneer and a forefather of the Chicano rock movement. He is known for the hits 'La Bamba' and 'Donna'. Valens died in a plane crash with Buddy Holly, J. P. 'The Big Bopper' Richardson, and pilot Roger Peterson. He was inducted into the Rock Hall in 2001.
Mary Wells (May 13, 1943 – July 26, 1992), Singer who helped to define the emerging sound of Motown. Her hits included 'The One Who Really Loves You', 'Two Lovers, 'You Beat Me to the Punch', and 'My Guy'.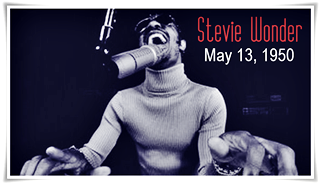 Stevie Wonder (Stevland Morris) (May 13, 1950), Singer, songwriter, musician, record producer, multi-instrumentalist, and activist who is one of the most successful musical performers of the late 20th century. He signed with Motown at age 11. He has recorded 30+ Top 10 hits,won 25 Grammys, has sold more than 100 million records, and is a Rock Hall inductee.
May 14
David Byrne (May 14, 1952), Singer, songwriter, musician, record producer, artist, actor, writer and filmmaker who was a founding member, principal songwriter and lead singer and guitarist of the Talking Heads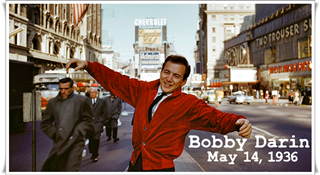 Bobby Darin (Walden Robert Cassotto) (May 14, 1936 – Dec 20, 1973), Singer, songwriter, multi-instrumentalist, and actor. Hits include 'Splish Splash', 'Dream Lover', 'Mack the Knife', 'Beyond the Sea', and many others. He won a Golden Globe Award for Come September, a lifetime achievement Grammy, and was inducted into the Rock and Songwriters Halls of Fame.
Will "Dub" Jones (May 14, 1928 – Jan 16, 2000), R&B singer who was a member of The Coasters. He was inducted the Rock and Roll Hall of Fame in 1987.
May 15
Eddy Arnold (May 15, 1918 – May 8, 2008), Country music singer who had 147 Billboard country hits and is a Country Music Hall of Fame inductee.
Dennis Frederiksen (May 15, 1951 – Jan 18, 2014), Lead singer of Toto.
Graeham Goble (May 15, 1947), Australian musician, singer, songwriter, record producer and founding member of the Little River Band. Wrote the hits Reminiscing, Lady, Take It Easy on Me and The Other Guy.
Trinidad "Trini" López III (May 15, 1937), Singer, guitarist, and actor. He received a golden disc for his version of 'If I Had a Hammer'. He designed two guitars for the Gibson , which are now collectors' items.
Mike Oldfield (May 15, 1953), English multi-instrumentalist and composer. His biggest commercial success is the 1973 album Tubular Bells – which launched Virgin Records and became a hit in America after its opening was used as the theme for the film The Exorcist.
May 16
Janet Jackson (May 16, 1966), Singer, songwriter, actress, and dancer. She has sold over 180 million records, won numerous Grammys, and is ranked #7 on Billboard's list of the 'Hot 100 All-Time Top Artists' and #5 on the 'Top 50 R&B/Hip-Hop Artists of the Past 25 years' among other honors.
Barbara Lee ( May 16, 1947 – May 15, 1992), Singer and founding member of The Chiffons whose hits included 'One Fine Day' and 'Sweet Talking Guy'.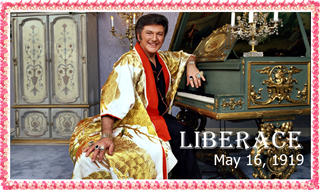 Liberace (Władziu Valentino Liberace) (May 16, 1919 – Feb 4, 1987), American pianist, singer and actor who had a career spanned 4 decades. From the 50s to the 70s, he was the highest-paid entertainer in the world. Liberace embraced a flamboyant lifestyle both on and off stage.
Boyd Tinsley (May 16, 1964), Violinist and mandolinist and member of the Dave Matthews Band. Charlottesville's Dave Matthews Band are the first group to have six consecutive albums debut at the top of the US charts.
May 17
Malcolm Hale (May 17, 1941 – Oct 31, 1968 ), Lead guitarist, multi-instrumentalist, and arranger with Spanky and Our Gang.
George Johnson (May 17, 1953), Guitarist and vocalist who with brother with Louis formed The Brothers Johnson. Their major hits were 'I'll Be Good to You', 'Strawberry Letter 23', and 'Stomp!' in the 70's and 80's.
May 18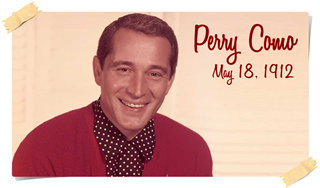 Perry Como (May 18, 1912 –May 12, 2001), Singer, actor and TV personality who sold millions of records and pioneered a weekly musical variety show. Como won five Emmys, two Grammys, and numerous other awards. His life was summed up by RCA records in Billboard as '50 years of music and a life well lived. An example to all.'
Albert Hammond (May 18, 1944) is a Gibraltarian singer, songwriter, and record producer.He collaborated with many notable songwriters. He had the 1972 #5 hit ,It Never Rains in Southern California'. He us a member of the Songwriters Hall and of the Order of the British Emoire(OBE)
George Strait (May 18, 1952), Traditional country singer, songwriter, actor, and producer. He is considered one of the most influential and popular recording artists of all time. Strait is third only to Elvis Presley and The Beatles with the most gold and platinum albums in the history of music.
Big Joe Turner (May 18, 1911 – Nov 24, 1985), American blues shouter. According to songwriter Doc Pomus, 'Rock and roll would have never happened without him.' His greatest fame was from his rock-and-roll songs including the original 'Shake, Rattle and Roll' and 'Corrine, Corrina', but his career endured from the 20's to the 80's. Turner is a Rock Hall inductee.
Rick Wakeman (May 18, 1949), English keyboardist, songwriter, producer, television and radio presenter, and author best known for being in the band Yes across five tenures between 1971 and 2004.
May 19
Joey Ramone (Jeffrey Ross Hyman) (May 19, 1951 – April 15, 2001), Musician, singer-songwriter and lead vocalist of the Ramones.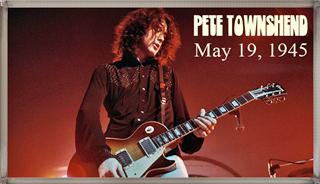 Pete Townshend (May 19, 1945), English musician and songwriter best known as the lead guitarist, second vocalist, and principal songwriter for the Who. He has written well over 200 songs for the Who and solo albums. Townshend is #10 on Rolling Stone's 2011 list of the '100 greatest guitarists of all time'. He is a Rock Hall inductee and Grammy Lifetime Achievement Award winner among many other accolades.
May 20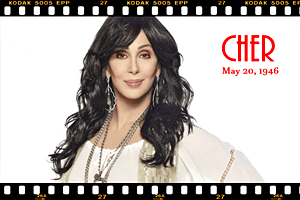 Cher (Cherilyn Sarkisian) (May 20, 1946), Singer and actress who started in 1965 as half of the folk rock husband-wife duo Sonny & Cher. She became a television personality in the 70's with her shows The Sonny & Cher Comedy Hour and Cher. 'I Got You Babe', 'Bang Bang (My Baby Shot Me Down)', 'Gypsys, Tramps & Thieves', 'Half-Breed', and 'Dark Lady' are just a few of her hits. Movies include Silkwood, Mask, The Witches of Eastwick and Moonstruck. Cher has won a Grammy, an Emmy, an Academy Award, three Golden Globe Awards, and numerous other awards.
Joe Cocker(May 20, 1944 – Dec 22, 2014), English singer known for his gritty voice and distinctive versions of popular songs. Hits include versions of the Beatles' 'With a Little Help from My Friends' (performed live at Woodstock), the Boxtops 'The Letter' and 'You Are So Beautiful'. He won a Grammy his #1 song 'Up Where We Belong', a duet with Jennifer Warnes.
May 21
Ronald Isley (May 21, 1941), Recording artist, songwriter, record producer, and occasional actor best known as the lead singer and founding member of the Isley Brothers. Their first hit was Shout' in 1959, and then the 1962 hit 'Twist and Shout. The Isley Brothers had the hits 'This Old Heart Of Mine', 'Summer Breeze' and 'Harvest for the World' and others.
Leo Sayer (May 21, 1948), is an English-Australian singer-songwriter musician and entertainer whose singing career has spanned four decades. He is now an Australian citizen and resident. His US hits were the #9 'Long Tall Glasses' and the #1's 'You Make Me Feel Like Dancing (a Grammy winner) and the romantic ballad, 'When I Need You'.
Tony Sheridan (May 21, 1940 – Feb 16, 2013), English singer-songwriter and guitarist best known as an early collaborator of the Beatles (record labelled as 'The Beat Brothers'), one of two non-Beatles (the other was Billy Preston) to receive label performance credit with the group, and the only non-Beatle to appear as lead singer on a Beatles recording which charted as a single.
May 22
Kenny Ball (May 22, 1930 – March 2013), English jazz musician, best known for his 1961 #2 US and UK hit ' Midnight in Moscow'.
Jackie Landry Jackson (May 22, 1941 – Dec 23, 1997), was a member of the Chantels, the second nationally successful black female pop music group. She had the top 20 hits 'Maybe' and 'Look In My Eyes' in 1958 and 1961.
Calvin Simon (May 22, 1942), Former member of the bands Parliament and Funkadelic. Member of the Rock and Roll Hall of Fame, inducted in 1997 with fifteen other members of Parliament-Funkadelic.
Bernie Taupin (May 22, 1950), English lyricist, poet, artist, and singer best known for his collaboration with Elton John, writing the lyrics for most of John's songs. In 1967, Taupin answered an ad in the UK music paper New Musical Express seeking new songwriters. John responded the ad too bringing them together. Taupin is a Songwriters Hall of Fame member.
May 23
Rosemary Clooney (May 23, 1928 – June 29, 2002), Singer and actress whose 50's era hits included 'Come On-a My House', 'Botch-a-Me', 'Mambo Italiano', 'Half as Much', and 'This Ole House'. She was actor George Clooney's Aunt.
'General' Norman Johnson (May 23, 1941 – Oct 13, 2010), Leader of the Chairmen of the Board, R&B and blues songwriter, and record producer. He had the #3 hit 'Give Me Just a Little More Time' and wrote the Grammy winning 'Patches' for Clarence Carter. Honey Cone recorded his songs 'Want Ads', 'Stick Up', and 'One Monkey Don't Stop No Show'. Freda Payne recorded his Vietnam War era song 'Bring the Boys Home'.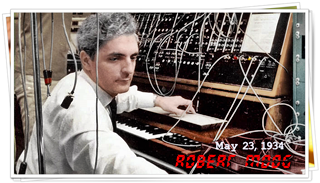 Robert Moog (May 23, 1934 – Aug 21, 2005), Engineer and inventor of the first commercial synthesizer, the Moog synthesizer and the MiniMoog, "the first compact, easy-to-use synthesiser" in 1970. Awards include two technically related Grammys. National Inventors Hall of Fame member.
May 24
Rosanne Cash (May 24, 1955), Singer-songwriter and author. She is the daughter of Johnny Cash. Her music draws on many genres: country, folk, pop, rock, blues, and Americana. She has had 11 No. 1 country hit singles and 21 Top 40 country singles. Awards include Smithsonian magazine's American Ingenuity Award in the Performing Arts category and 4 Grammys. Inducted into the Nashville Songwriters Hall of Fame .
Cynthia 'Plaster' Caster (Cynthia Albritton) (May 24, 1947), Artist and self-described "recovering groupie" who creates plaster casts of famous persons' private parts. She has inspired at least two songs: 'Five Short Minutes' by Jim Croce and 'Plaster Caster' by Kiss. Please note that the link goes to her somewhat adult website.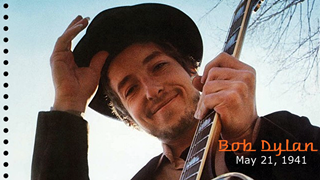 Bob Dylan (Robert Zimmerman) (May 24, 1941), Singer-songwriter, author and artist who has been a major figure in pop culture for six decades. Dylan has released over 40 albums since 1964, and was a major influence on The Beatles. His biggest hits are 'Like A Rolling Stone' and 'Lay Lady Lay'. 'Blowin' in the Wind' and 'The Times They Are a-Changin' became anthems for the Civil Rights and anti-war movement. He has won many awards including the 2016 Nobel Prize in Literature, and 12 Grammys.
Patti LaBelle (Patricia Holte) (May 24, 1944), Singer, actress, and entrepreneur. Her group LaBelle had the disco hit, 'Lady Marmalade'. She has also had a solo career, starred in a sitcom, had a TV talk show, and sold 50 million records. She has been inducted into the Grammy Hall of Fame, the Hollywood Walk of Fame, and the Apollo Theater Hall of Fame. LaBelle was included in Rolling Stone on their list of 100 Greatest Singers.
Credits: Content is an aggregation from ThisDayInMusic.com, Wikipedia, and MeTV.fm. Some photos are from the free stock photo website 'Pixabay.com'.