The Sunday Morning Wake Up Call is a weekly Charlottesville news talk show which originates from 97.9 the WREN. This show is aired every Sunday morning from 11 AM – 12 Noon and is offered here as a podcast. Host Rick Moore regarding Charlottesville topics with guests on his show.
Rick's show has been on Charlottesville radio since 1996 first on WNRN and more recently on WPVC. 97.9 WREN is now the home for the Sunday Morning Wake Up Call!
Each podcast is a one hour show which you may stop, start, and advance or rewind at will. Enjoy!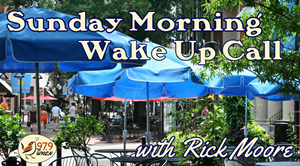 | | |
| --- | --- |
| | Starts this Sunday June 21! |
New shows will generally be posted here within 24 hours of it's original broadcast.
Thanks for listening to 979.9 The WREN. Please like us on Facebook if you have the time!