This weeks birthdays include Cher, Bob Dylan, Patti LaBelle, Bernie Taupin, Robert Moog, Robert Isley, Cynthia 'Plaster' Caster (who??), (and more)! Listen for the music birthday list afternoons at 3:35 PM weekdays with Jon Hall.
For birthday's from April 11 to current, go to our Music Birthday page.
May 19
Joey Ramone (Jeffrey Ross Hyman) (May 19, 1951 – April 15, 2001), Musician, singer-songwriter and lead vocalist of the Ramones.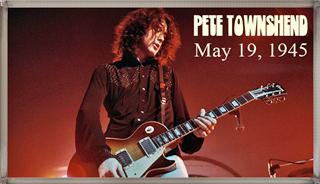 Pete Townshend (May 19, 1945), English musician and songwriter best known as the lead guitarist, second vocalist, and principal songwriter for the Who. He has written well over 200 songs for the Who and solo albums. Townshend is #10 on Rolling Stone's 2011 list of the '100 greatest guitarists of all time'. He is a Rock Hall inductee and Grammy Lifetime Achievement Award winner among many other accolades.
May 20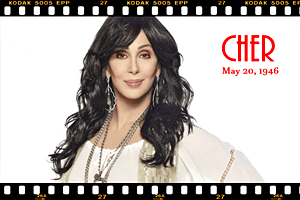 Cher (Cherilyn Sarkisian) (May 20, 1946), Singer and actress who started in 1965 as half of the folk rock husband-wife duo Sonny & Cher. She became a television personality in the 70's with her shows The Sonny & Cher Comedy Hour and Cher. 'I Got You Babe', 'Bang Bang (My Baby Shot Me Down)', 'Gypsys, Tramps & Thieves', 'Half-Breed', and 'Dark Lady' are just a few of her hits. Movies include Silkwood, Mask, The Witches of Eastwick and Moonstruck. Cher has won a Grammy, an Emmy, an Academy Award, three Golden Globe Awards, and numerous other awards.
Joe Cocker(May 20, 1944 – Dec 22, 2014), English singer known for his gritty voice and distinctive versions of popular songs. Hits include versions of the Beatles' 'With a Little Help from My Friends' (performed live at Woodstock), the Boxtops 'The Letter' and 'You Are So Beautiful'. He won a Grammy his #1 song 'Up Where We Belong', a duet with Jennifer Warnes.
May 21
Ronald Isley (May 21, 1941), Recording artist, songwriter, record producer, and occasional actor best known as the lead singer and founding member of the Isley Brothers. Their first hit was 'Shout' in 1959, and then the 1962 hit 'Twist and Shout'. The Isley Brothers had the hits 'This Old Heart Of Mine', 'Summer Breeze' and 'Harvest for the World' among many others.
Leo Sayer (May 21, 1948), English-Australian singer-songwriter musician and entertainer whose singing career has spanned four decades. He is now an Australian citizen and resident. His US hits were the #9 'Long Tall Glasses' and the #1's 'You Make Me Feel Like Dancing (a Grammy winner) and the romantic ballad, 'When I Need You'.
Tony Sheridan (May 21, 1940 – Feb 16, 2013), English singer-songwriter and guitarist best known as an early collaborator of the Beatles (record labelled as 'The Beat Brothers'), one of two non-Beatles (the other was Billy Preston) to receive label performance credit with the group, and the only non-Beatle to appear as lead singer on a Beatles recording that charted.
May 22
Kenny Ball (May 22, 1930 – March 2013), English jazz musician, best known for his 1961 #2 US and UK hit ' Midnight in Moscow'.
Jackie Landry Jackson (May 22, 1941 – Dec 23, 1997), was a member of the Chantels, the second nationally successful black female pop music group. She had the top 20 hits 'Maybe' and 'Look In My Eyes' in 1958 and 1961.
Calvin Simon (May 22, 1942), Former member of the bands Parliament and Funkadelic. Member of the Rock and Roll Hall of Fame, inducted in 1997 with fifteen other members of Parliament-Funkadelic.
Bernie Taupin (May 22, 1950), English lyricist, poet, artist, and singer best known for his collaboration with Elton John, writing the lyrics for most of John's songs. In 1967, Taupin answered an ad in the UK music paper New Musical Express seeking new songwriters. John responded the ad too bringing them together. Taupin is a Songwriters Hall of Fame member.
May 23
Rosemary Clooney (May 23, 1928 – June 29, 2002), Singer and actress whose 50's era hits included 'Come On-a My House', 'Botch-a-Me', 'Mambo Italiano', 'Half as Much', and 'This Ole House'. Actor George Clooney's Aunt.
'General' Norman Johnson (May 23, 1941 – Oct 13, 2010), Leader of the Chairmen of the Board, R&B and blues songwriter, and record producer. He had the #3 hit 'Give Me Just a Little More Time' and wrote the Grammy winning 'Patches' for Clarence Carter. Honey Cone recorded his songs 'Want Ads', 'Stick Up', and 'One Monkey Don't Stop No Show'. Freda Payne recorded his Vietnam War era song 'Bring the Boys Home'.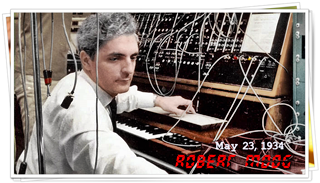 Robert Moog (May 23, 1934 – Aug 21, 2005), Engineer and inventor of the first commercial synthesizer, the Moog synthesizer and the MiniMoog, "the first compact, easy-to-use synthesiser" in 1970. Awards include two technically related Grammys.  National Inventors Hall of Fame member.
May 24
Rosanne Cash (May 24, 1955), Singer-songwriter and author. She is the daughter of Johnny Cash. Her music draws on many genres: country, folk, pop, rock, blues, and Americana. She has had 11 No. 1 country hit singles and 21 Top 40 country singles. Awards include Smithsonian magazine's American Ingenuity Award in the Performing Arts category and 4 Grammys. Inducted into the Nashville Songwriters Hall of Fame .
Cynthia 'Plaster' Caster (Cynthia Albritton) (May 24, 1947), Artist and self-described "recovering groupie" who creates plaster casts of famous persons' private parts. She has inspired at least two songs: 'Five Short Minutes' by Jim Croce and 'Plaster Caster' by Kiss. Please note that the link goes to her somewhat adult website.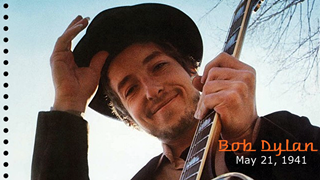 Bob Dylan (Robert Zimmerman) (May 24, 1941), Singer-songwriter, author and artist who has been a major figure in pop culture for six decades. Dylan has released over 40 albums since 1964, and was a major influence on The Beatles. His biggest hits are 'Like A Rolling Stone' and 'Lay Lady Lay'. 'Blowin' in the Wind' and 'The Times They Are a-Changin' became anthems for the Civil Rights and anti-war movement. He has won many awards including the 2016 Nobel Prize in Literature, and 12 Grammys.
Patti LaBelle (Patricia Holte) (May 24, 1944), Singer, actress, and entrepreneur. Her group LaBelle had the disco hit, 'Lady Marmalade'. She has also had a solo career, starred in a sitcom, had a TV talk show, and sold 50 million records. She has been inducted into the Grammy Hall of Fame, the Hollywood Walk of Fame, and the Apollo Theater Hall of Fame. LaBelle was included in Rolling Stone on their list of 100 Greatest Singers.
Credits: Content is an aggregation from ThisDayInMusic.com, Wikipedia, and MeTV.fm. Some photos are from the free stock photo website 'Pixabay.com'.