Please see our other Music Birthday Lists:
May 1:
Rita Coolidge (May 1, 1945), Singer and songwriter who won 2 Grammy Awards with then-husband Kris Kristofferson. Hits include '(Your Love Keeps Lifting Me) Higher and Higher', 'We're All Alone', and others.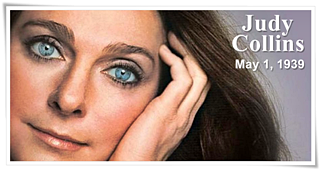 Judy Collins (May 1, 1939), Singer, songwriter, and social activist know for her wide range of music recordings including folk, rock, and show tunes. Has won 4 Grammy Awards including on for her biggest hit 'Both Sides Now'. Her recording of 'Amazing Grace' selected for preservation by The Library of Congress.
Sonny James (Jimmie Hugh Loden) (May 1, 1928 – February 22, 2016), Country music singer and songwriter best known for his 1957 hit, 'Young Love'. Had 72 pop and country charted hits including 26 #1 country hits. Known as the 'Southern Gentleman'. Country Hall of Fame inductee (2007).
Big Maybelle (Mabel Louise Smith) (May 1, 1924 – January 23, 1972), Singer who had an R&B hit with 'Whole 'Lotta Shakin Goin On' in 1955 two years before Jerry Lee Lewis had his version. Her 1956 hit 'Candy' received the Grammy Hall of Fame Award in 1999.
Ray Parker, Jr. (May 1, 1954), Guitarist, singer-songwriter, record producer, and actor, best known for writing and performing the theme song to the 1984 movie Ghostbusters, for his solo music, and for performing with his band, Raydio, and with Barry White. Ray Parker American guitarist, singer-songwriter Ray Parker Jr. who had the 1984 US No.1 & UK No.2 single 'Ghostbusters'.
May 2:
Lesley Gore (Lesley Sue Goldstein) (May 2, 1946 – February 16, 2015), 
Singer, songwriter, actress, and activist. Recorded the #1 hit 'It's My Party' when she was only 16 and followed it up with hits including 'Judy's Turn to Cry', 'Sunshine, Lollipops and Rainbows' , 'She's a Fool', 'You Don't Own Me', 'Maybe I Know' and 'California Nights'. Nominated for an Academy Award for a song she wrote with her brother for the movie 'Fame'.
LinkWray (May 2, 1929 – November 5, 2005), Influential Shawnee guitarist, songwriter, and vocalist known for his 1958 instrumental hit 'Rumble' by Link Wray & His Ray Men. Nominated to the Rock Hall in 2013 and 2017. 'Rumble' the song was inducted into the Rock Hall.
May 3: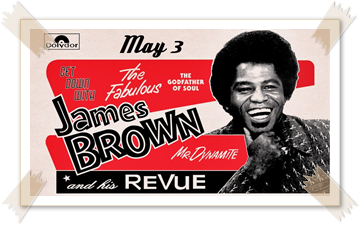 James Brown (May 3, 1933 –December 25, 2006), Seminal American soul, pop, and rock singer, songwriter, bandleader, and social activist. A progenitor of funk music and a major figure of 20th-century music and dance Known as the 'Godfather of Soul'. He is ranked No. 7 on Rolling Stone's list of its 100 greatest artists of all time.
Bing Crosby (Harry Lillis Crosby) (May 3, 1903 – October 14, 1977), Important singer, actor, radio and television star, and Academy Award winner. The first multimedia star, Crosby was a leader in record sales, radio ratings, and motion picture grosses from 1931 to 1954. Crosby influenced the development of the postwar recording industry especially with regard to magnetic tape technologies for audio and video.
Christopher Cross (May 3, 1951), Singer-songwriter who won 5 Grammy Awards for his significant 1979 debut album. The singles Sailing', and 'Arthur's Theme (Best That You Can Do)' (from the 1981 film Arthur) peaked at #1. 'Sailing' earned 3 Grammys in 1981, while 'Arthur's Theme' won the Oscar for Best Original Song in 1981.
Mary Hopkin (May 3, 1950), Welsh folk singer who is best known for her songs 'Those Were The Days' and 'Goodbye'.
Pete Seeger (May 3, 1919 –January 27, 2014), American folk singer, songwriter, social activist, and member of The Weavers. Career damaged unfairly by the 50's Communist Blacklist era. Major comeback in the 60's. 
Best-known songs include 'Where Have All the Flowers Gone?' (with Joe Hickerson), 'If I Had a Hammer (The Hammer Song)' (with Lee Hays of the Weavers), and 'Turn! Turn! Turn!'.
Pete Staples (May 3, 1944), English musician and the original bassist of The Troggs. Hits include the #1 'Wild Thing', 'With a Girl Like You' and 'Love Is All Around'.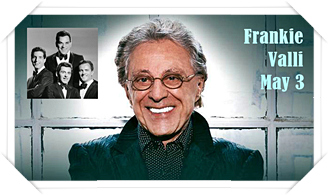 Frankie Valli (Francesco Stephen Castelluccio) (May 3, 1934), Singer and actor. Leader of The Four Seasons. Had 29 Top 40 hits with The Four Seasons, one under The Four Seasons alias The Wonder Who?, and nine as a solo artist.
Bobby Vee (Robert Thomas Velline ) (April 30, 1943 – October 24, 2016), Singer, song writer, actor, and teen idol who had 10 Top 20 and 6 Gold singles. Rockabilly and Hit Parade Halls member.
May 4: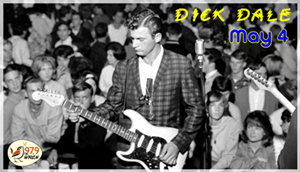 Dick Dale (Richard Anthony Monsour) (May 4, 1937 – March 16, 2019), Rock guitarist and a pioneer of surf music, drawing on Middle Eastern music scales and experimenting with reverberation. Dale was known as 'The King of the Surf Guitar'. He helped to develop equipment that was capable of producing a louder guitar sound without sacrificing reliability. Inductee to the Musicians Hall of Fame.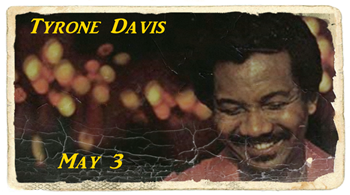 Tyrone Davis (May 4, 1938 –February 9, 2005), Blues and soul singer with many R&B hits including the Top 10 'Can I Change My Mind' and 'Turn Back The Hands Of Time'.
Jackie Jackson (Sigmund Esco Jackson) (May 4, 1951), Singer, songwriter, and a founding member of the Jackson 5. Jackie is the second child of the Jackson family and the oldest Jackson brother.
Nickolas Ashford (May 4, 1941 – August 22, 2011) was an American R&B singer and songwriter who formed the musical partnership Ashford & Simpson with his wife, Valerie Simpson. They had the 1985 hit 'Solid' and wrote hits such as: 'Ain't No Mountain High Enough', 'You're All I Need To Get By', 'Ain't Nothing Like the Real Thing', and 'Reach Out and Touch (Somebody's Hand)' as a team.
May 5
Johnnie Taylor (May 5, 1934 – May 31, 2000), Three time Grammy Award nominated recording artist and songwriter who performed a wide variety of genres. His hits include 'Who's Making Love', 'Disco Lady' and others..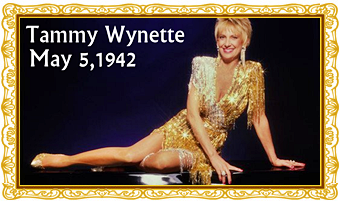 Tammy Wynette (Virginia Wynette Pugh) (May 5, 1942 – April 6, 1998), Country music singer and songwriter One of country music's biggest-selling female singers. Known as the 'First Lady of Country Music'. Her song, 'Stand by Your Man', is one of the best-selling hit singles by a woman in the history of country music.
Adele (Adelle Laurie Blue Adkins) (May 5, 1988), English singer-songwriter. She has earned 15 Grammy awards, 21 entries in the Guinness Book of World Records, and is a member of the 'Most Excellent Order of the British Empire' (MBE).
May 6
Ace Cannon (May 5, 1934 – December 6, 2018), Tenor and Alto Saxophonist. Played and toured with Bill Black's Combo, and started a solo career with his #17 hit 'Tuff' in 1962, with the Black combo backing. Inducted into both the Rock and Soul Hall of Fame and the Rockabilly Hall of Fame in 2000.
Leon Hughes, (May 6, 1932), Last surviving original member of The Coasters. His tenor voice is heard on many of the group's hits, including 'Searchin' and 'Young Blood'. He left the group in 1958.
Davey Johnstone (May 6, 1951), Scottish rock guitarist and vocalist, best known for his work with Elton John. His debut album with Elton John was the 1972 'Honky Chateau'. In 2009, he played a landmark 2,000th show as a member of the Elton John Band.
Mary MacGregor (May 6, 1948), Singer who is best known for the 1976 song 'Torn Between Two Lovers'. She did not like her own hit as she had no sympathy for the songs theme.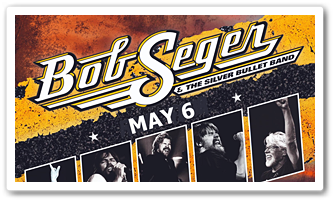 Bob Seger (May 6, 1945), Singer, songwriter, guitarist and pianist who has sold more than 75 million records. Inducted into the Rock and Roll Hall of Fame , Songwriters Hall of Fame and named Billboard's 2015 Legend of Live honoree.
May 7
Teresa Brewer (May 7, 1931 –October 17, 2007), Traditional pop singer who recorded over 600 songs. Had many mostly pre-rock 1950's hits.
May 8
Ricky (Rick) Nelson (Eric Hilliard Nelson) (May 8, 1940 – December 31, 1985), Rock and roll star, musician, and singer-songwriter. From age eight he starred with his family in the radio and television series The Adventures of Ozzie and Harriet. He had 53 songs on the Top 100, between 1957 and 1973, including "Poor Little Fool" in 1958, which was the first #1 song on Billboard magazine's then-newly created Hot 100 chart.  Rock Hall member.
May 9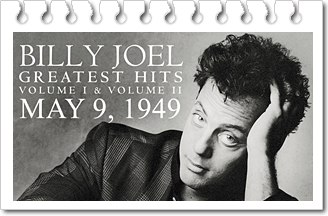 Billy Joel (May 9, 1949), Singer-songwriter, composer and pianist. He has been making music since the 1960s, releasing popular albums from the 70's, to the 90's. Joel produced 33 Top 40 hits in the US, all of which he wrote himself, including 3 that reached #1. He has won 6 Grammys selling over 150 million records sold worldwide. Rock and Songwriters Hall member. Knight of the British Empire (KBE).
Hank Snow (May 9, 1914 – Dec 20, 1999), Canadian country singer-songwriter. During an over 50 year career, he recorded 140 albums and had 85 singles on the country charts. In 1954, Snow persuaded the
Grand Ole Opry to allow Elvis Presley to appear on stage. Snow used Presley as his opening act and introduced him to Colonel Tom Parker. In the end he had no respect for Tom Parker. Country and Canadian Music Hall member.
May 10
Bono, (Paul Hewson) (May 10, 1960), Irish singer-songwriter, musician, and philanthropist. He is best known as the lead vocalist and primary lyricist of rockband U2. Has won 22 Grammy's and is a Rock Hall of Fame member.
Fred Astaire (May 10, 1899 – June 22, 1987), Singer, actor, and dancer who is widely regarded as the most influential dancer in the history of film.
May 11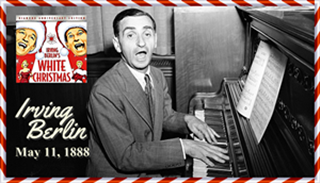 Irving Berlin (May 11, 1888 –September 22, 1989), American composer and lyricist, widely considered one of the greatest songwriters in American history. Berlin's songs have reached the top of the charts 25 times and have been extensively re-recorded by numerous singers including modern artists such as Linda Ronstadt, Cher, Bob Dylan, Diana Ross, Jerry Garcia, Willie Nelson, Michael Buble, Lady Gaga, and Christina Aguilera. One of the 'great American minstrels' who has 'caught and immortalized in his songs what we say, what we think about, and what we believe'.
Credits: Content is an aggregation from ThisDayInMusic.com, Wikipedia, and MeTV.fm. Some photos are from the free stock photo website 'Pixabay.com'.
Credits: Content is an aggregation from ThisDayInMusic.com, Wikipedia, and MeTV.fm. This list has been tailored to the American and oldies audience, in particular. Some photos are from the free stock photo website 'Pixabay.com'.