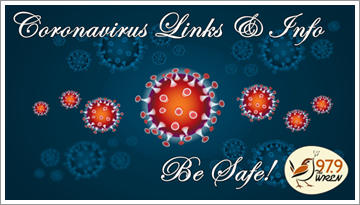 The The World Health Organization, Center For Disease Control, and The Virginia Department of Health are the primary world, national, and Virginia health organizations. Both the New York Times and the Washington Post have significant 'free pages' with most of their Coronavirus articles and general health information. We have also added a mental health links section.
A couple of good starting places (much more is noted below):
Coronavirus.gov is a new federal government site consolidating much of what is needed to know about coronavirus.
Charlottesville Tomorrow has dedicated their resources to corona virus news currently and is an excellent source for area corona virus information
PLEASE DO NOT depend on text, email, WhatsApp, TikTok, or any other social media information which you may see or get in your in box! DO NOT buy medicine, hand sanitizer, wipes unless you know the brand or source and are sure that it isn't counterfeit. A product being offered on ebay or Amazon is NO ASSURANCE of its quality or safety!
Please DON'T listen to anyone who tells you to give up social distancing! Stay isolated as much as possible. This isn't about politics; it is about our health!
If you have a link to an article or a site that you believe should be listed here, PLEASE LET US KNOW about it!
LINKS:
General Health Information:
World Health Organization (WHO) – World and US corona virus information
Centers for Disease Control (CDC) – US corona virus health news & general information
Virginia Department of Health (VDH) – Virginia related information & general health info
It Happens Here – Local health information
Thomas Jefferson Health District – Frequently updated Local health information (Facebook page)
Coronavirus.gov – Specific and general health updates and news. A collaboration of Heath and Human Services, The Centers of Disease Control, and The White House.
Mental Health:
Psychology Today – Coping and Caring for Yourself During the COVID-19 Outbreak: Tips and tricks to manage stress through self-care.
Centers for Disease Control and Prevention (CDC) – Stress and Coping guide
National Association of School Psychologists (NASP) – Helping Children Cope With Changes Resulting From COVID-19
Happiness Lab – In "The Happiness Lab" podcast, Yale professor Dr Laurie Santos will take you through the latest scientific research and share some surprising and inspiring stories that will forever alter the way you think about happiness.
News:
Charlottesville Tomorrow – Local corona virus news & information. Also, please see their front page for more information.
New York Times – Free coronavirus news & information coverage.
Washington Post – Free coronavirus news & information coverage.
Miscellaneous:
National Geographic Article – Experts envision two scenarios if the new coronavirus isn't contained
Notable closures in Charlottesville and Albemarle County – Courtesy of: Charlottesville Tomorrow:
City of Charlottesville – Coronavirus updates and current closures including Parks and recreation and all government functions. City Hall will be closed to the public until at least April 12th.
Albemarle County – General website with governmental information.
Charlottesville Free Clinic is continuing operations during COVID-19 crisis to keep non-emergency patients out of hospitals.
The Charlottesville Police Department has suspending front counter services and closing its facilities to the public indefinitely. To request police reports and crash reports, email RecordsTeam@charlottesville.org, call (434) 970-3280, fax (434) 970-3233 or send a letter to 606 E. Market St., Charlottesville, VA 22902, ATTN: Records.
The Charlottesville Clerk of Circuit Court's Office is closed to walk-in traffic. Timely matters are by appointment only by contacting Clerk of Court Llezelle Dugger at duggerl@charlottesville.org or (434) 970-3064. Calls will continue to be answered from 8:30 a.m. to 4:30 p.m. Monday through Friday. Free access to land and probate records will be available by remote access.
Gov. Ralph Northam has ordered all DMV locations closed. Licenses that expire during this time will have a 60-day extension.
James Monroe's Highland is closing thorough May 1 (at least).
James Madison's Montpelier is closed "until further notice."
Thomas Jefferson's Monticello – Monticello is Temporarily Closed through April 23 but they do have LIVE virtual tours available on-line.
The Tom Tom Founders Festival has been rescheduled to September.