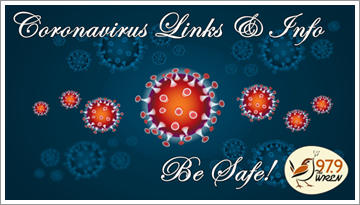 The World Health Organization, Centers For Disease Control, and the Virginia Department of Health are the primary world, national, and Virginia health organizations. Both the New York Times and the Washington Post have are offering free access to COVID their Coronavirus articles and information. We at WREN have aggregated a directory of inportant COVID links below.
NEW Virginia COVID Regulations:
These measures took effect starting midnight on Sunday, Nov. 15:
Reduction in public and private gatherings: All public and private in-person gatherings must be limited to 25 individuals, down from the current cap of 250 people. This includes outdoor and indoor settings.
Expansion of mask mandate: All Virginians aged five and over are required to wear face coverings in indoor public spaces. This expands the current mask mandate, which has been in place in Virginia since May 29 and requires all individuals aged 10 and over to wear face coverings in indoor public settings.
Strengthened enforcement within essential retail businesses: All essential retail businesses, including grocery stores and pharmacies, must adhere to statewide guidelines for physical distancing, wearing face coverings, and enhanced cleaning. While certain essential retail businesses have been required to adhere to these regulations as a best practice, violations will now be enforceable through the Virginia Department of Health as a Class One misdemeanor.
On-site alcohol curfew: The on-site sale, consumption, and possession of alcohol is prohibited after 10:00 p.m. in any restaurant, dining establishment, food court, brewery, microbrewery, distillery, winery, or tasting room. All restaurants, dining establishments, food courts, breweries, microbreweries, distilleries, wineries, and tasting rooms must close by midnight. Virginia law does not distinguish between restaurants and bars, however, under current restrictions, individuals that choose to consume alcohol prior to 10:00 p.m. must be served as in a restaurant and remain seated at tables six feet apart.
Full information is available at Virginia.gov.
COVID Information:
Current COVID News:
Local (Charlottesville Metro Area):
Charlottesville Tomorrow – Extensive local COVID news & information which is updated daily.
National & World:
Coronavirus.gov – Specific and general health updates and news. A collaboration of Heath and Human Services, The Centers of Disease Control, and The White House.
New York Times – Free coronavirus news & information coverage.
Washington Post – Free coronavirus news & information coverage.
COVID Health Resources:
Local (Charlottesville Metro Area):
City of Charlottesville – Charlottesville Coronavirus
Albemarle County – Albemarle COVID related information.
Thomas Jefferson Health District – Local COVID health resources
Thomas Jefferson Health District – Local COVID testing times & dates
Help Happens Here – Extensive local health link page
State (Virginia):
Virginia Department of Health (VDH) – Virginia related information & general health info
National (US):
Centers for Disease Control (CDC) – US corona COVID information
Worldwide:
World Health Organization (WHO) – World COVID information
Mental Health:
Centers for Disease Control and Prevention (CDC) – Stress and Coping guide
National Association of School Psychologists (NASP) – Helping Children Cope With Changes Resulting From COVID-19
Happiness Lab –  In "The Happiness Lab" podcast, Yale professor Dr. Laurie Santos will take you through the latest scientific research and share some surprising and inspiring stories that will forever alter the way you think about happiness. This is a fun site!
If you have a link to an article or a site that you believe should be listed here, PLEASE LET US KNOW about it!
COVID is a health issue. It is NOT about politics!
DO NOT depend on text, email, Facebook, Twitter, Instagram, WhatsApp, TikTok or any other social media information which you may see or get in your in box! DO NOT take medicine unless it is prescribed by a medical professional or purchaseCOVID related supplies unless you know the source. A product being being offered on ebay or Amazon is NO ASSURANCE of its quality or safety!
Updated: November 16, 2020