Chris Connors 'Back Seat Memories' comes to you LIVE every Sunday night from 7-10 PM on WREN. Chris presented this very program in the Washington, DC market for many years. It is a lot of fun! Tune in for a very cool trip back in time!
Make a request and let Chris know about your favorite 'Back Seat' memory! Just email him at 'MyBackSeatMemories@979WREN.org' during or before the show anytime.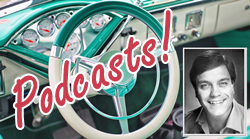 Join Chris for a new show Sunday night! We usually post shows here within 24 hours of the original broadcast.
Thanks for listening to 979.9 The WREN. Please like us on Facebook if you have the time!