Please see our other Music Birthday Lists:

April 14:
Tony Burrows (14 April 1942), English session singer and recording artist.
Sang lead vocals on several one-hit wonder songs under different group names, Edison Lighthouse's 'Love Grows (Where My Rosemary Goes)', White Plains 'My Baby Loves Lovin', The Pipkins novelty song Gimme Dat Ding' and First Class 'Beach Baby". He also sang lead vocals on The Brotherhood of Man's #13 hit 'United We Stand'.
Loretta Lynn (April 14, 1932), Country music singer. The movie Coal Miners Daughter from 1980 is about her life. CHarlottesville's Sissy Spacek stars as Loretta Lynn. Had many hits including several with Conway Twitty. Later had a rock hit with Jack White in the 2000's.
April 15:
Roy Clark (April 15, 1933-November 15, 2018), Country singer, musician, Country Hall inductee. He is best known for having hosted 'Hee Haw', a nationally televised country variety show, from 1969 to 1997.
Bessie Smith (April 16, 1894-September 26, 1937), Blues singer, 'Empress Of The Blues'. A notable influence on what became rock and roll. Died of injuries from a car accident when an all white hospital refused to treat her.
April 16:
Henry Mancini (April 16, 1924 – June 14, 1994), Conductor and Grammy Award-winning film score composer. Major hits include Moon River, The Pink Panther Theme, Love Theme From Romeo and Juliet, and the (Theme From ) Love Story.
Gerry Rafferty (16 April 1947 – 4 January 2011), was a Scottish rock singer-songwriter. Noted for 'Baker Street' and four other hits in 1978 and 1979.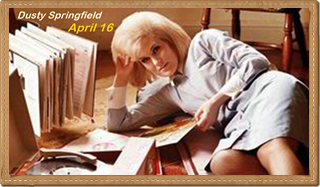 Dusty Springfield (Mary O'Brien) (April 16, 1939 – March 02, 1999), (Mary O'Brien) English pop-soul singer. Solo performer and a member of 'The Springfields' with her brother Tom Springfield and Tim Feild (correct spelling).
Bobby Vinton (April 16, 1935), Singer and songwriter who also briefly appeared in films. Had the #1 hit Blue Velvet plus two other #1and 31 Top 40 hits from 1962 to 1975.
April 17: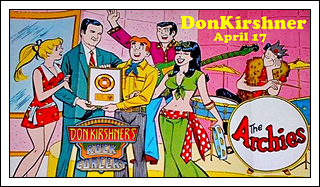 Don Kirshner (April 17, 1934 – January 17, 2011), Publisher, talent manager, songwriter, and Rock Hall inductee who helped launch the careers of Neil Diamond, Bobby Darin, Carole King, Neil Sedaka and The Archies. He was hired by the producers of 'The Monkees' to provide hit-worthy songs to accompany the program and also served as a music consultant for almost two dozen TV series between 1966 and 1977.
Jan Hammer (April 17, 1948 ), Keyboard player, Mahavishnu Orchestra and Jeff Beck. He scored the solo, 1985 US No.1 & UK No.5 single 'Miami Vice Theme'.
Michael Sembello (April 17, 1954), Grammy-award winning and Oscar nominated singer, musician, songwriter who had the 1983 US No.1 single 'Maniac', featured in the film 'Flashdance'.
April 18:
Glen Dee Hardin (April 18, 1939), American piano player and arranger. Honorary member of The Crickets post Buddy Holly. He has performed and recorded with such notable artists as Elvis Presley, Emmylou Harris, John Denver, and Ricky Nelson.
April 20:
Lionel Hampton (April 20, 1908 – August 31, 2002), Bandleader, percussionist, and pianist.
Johnny Tillotson (April 20, 1939), Singer and songwriter. Had the 1960 hit 'Poetry In Motion' plus eight other early sixties hits.
Luther Vandross (April 20, 1951 – July 1, 2005), Singer, songwriter and record producer. Performed with many major artists and had many R&B and Top 40 hits in the 80's and 90's . Received 8 Grammy Awards.
April 21:
Dudley Moore (April 19, 1935 – March 27, 2002), British actor and pianist.
Iggy Pop (April 21, 1947), British singer with The Stooges and as a solo act.

April 22:
Glen Campbell (April 22, 1936 – August 08, 2017), Singer, songwriter, musician, TV host, and actor. Had many country and pop hits including 'Rhinestone Cowboy'. Won 4 Grammy Awards and sold 45 M records.
Peter Frampton (April 21, 1950), English-American rock musician, singer, songwriter, producer, and guitarist. Guitarist with Humble Pie and The Herd. Breakout solo career with the album 'Frampton Comes Alive!' in 1976 which sold 8 Million copies and included several major hits.
April 23: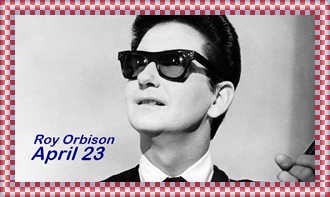 Roy Orbison (April 23, 1936 – December 6, 1988), Singer and songwriter who had the 1964 #1 single with 'Pretty Woman' plus over 20 US & 30 UK Top 40 singles including 'Only the Lonely', 'Running Scared' and 'Crying'. Later a member of the Traveling Wilburys.
Ray Petersen (April 16, 1939 – January 25, 2005), Scored the 1960 #7 single 'Tell Laura I Love Her'.
April 24:
Kelly Clarkson (April 24, 1982), Singer, songwriter, and television personality. Rose to fame in 2002 after winning the first season of American Idol. She has sold over 25 million albums and 45 million singles, had three #1 and 11 Top 10 hits, and has won 2 Grammy Awards.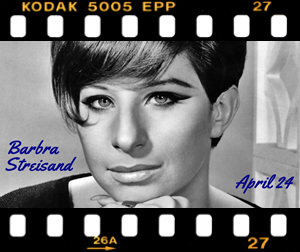 Barbra Streisand (April 24, 1942), Actress and singer who has won 10 Grammy Awards including Grammy Lifetime Achievement Award, and Grammy Legend Award. Has also won 5 Emmy Awards, a special Tony Award, 4 Peabody Awards, an American Film Institute Award, Kennedy Center Honors Award, the Presidential Medal of Freedom, and 9 Golden Globe Awards including as the Director of the movie Yentl in which she also starred. She is the only female to date to have won that award. She has sold 68.5 M albums in the US and 150 M albums and singles worldwide.

April 25:
Bjorn Uvalaeus (April 25, 1945), Guitarist and vocalist with the Swedish band 'ABBA' and is one of the A's in that name. Wrote the song 'Mama Mia!' with close friend and band mate Benny Andersson (who is the other 'A') and co-produced the movie 'Mama Mia!' with him.
Ella Fitzgerald (April 25, 1917 – June 15, 1996), 'First Lady of Song' – American jazz singer and orchestra leader. Won 14 Grammy Awards, the Presidential Medal of Freedom, and the National Medal of Honors.
Jerry Leiber (April 17, 1933 – August 22, 2011), Song lyricist with with composer Mike Stoller who formed the song writing team of Leiber & Stoller. Producer for Elvis Presley, Buddy Holly, The Monkees, Cliff Richard. Among their hit songs: Hound Dog, Jailhouse Rock, King Creole, Don't, There Goes My Baby, Searchin', Yakety Yak and Kansas City.
April 26
Duane Eddy (April 26, 1938), Accomplished guitarist who had several instrumental hits including 'Rebel-'Roser and Because They're Young in the late 50's and the early 60's with Lee Hazelwood as producer. Grammy Award winner. Inducted into the Rock And Roll Hall of Fame and the Musicians Hall of Fame and Museum.
Bobby Rydell (April 26, 1942), Singer, actor Bobby Rydell who had the 1960 US No.2 & UK No.7 single 'Wild One', plus 17 other US Top 40 hits.
Maurice Williams (April 26, 1938), Wrote and recorded the song Stay with his band, The Zodiacs. The name 'Zodiac' came from the British made Ford Zodiac. Stay is the shortest song to ever reach the Billboard #1 spot. Williams is a member of the North Caroline Music Hall of Fame.
Gary Wright (April 26, 1943), Singer, songwriter Gary Wright who was a member of Spooky Tooth. He had the 1976 solo US No.2 single 'Dream Weaver'. Friend of George Harrison who played keyboards on most of Harrison's post Beatles albums and hits.
April 27:
Sheena Easton (Sheena Shirley Orr) (April 27, 1949), British-American two time Grammy Award winning singer and actress. Had 15 Top 40 singles including 7 Top 10 Singles including 'Morning Train (9 to 5)' & 'Modern Girl'.
Ace Frehley (April 27, 1951), Musician and songwriter and original lead guitarist, occasional lead vocalist and co-founding member of Kiss.
Peter Ham (April 27, 1947 – April 24, 1975), Welsh singer, songwriter and guitarist. Lead vocalist and composer of the Badfinger. Also co-wrote 'Without You', a #1 hit for Harry Nilsson.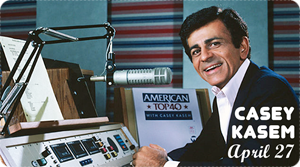 Casey Kasem (Kemal Amin Kasem) (April 27, 1932 – June 15, 2014), American Disc Jockey, Radio Personality, and Music Historian. Best known for creating the 'American Top 40' music countdown show.
April 28:
Chuck Leavell (April 28, 1952), Member of the The Allman Brothers Band during the height of their 1970s popularity. He is the longtime keyboardist and musical director with The Rolling Stones and Leavell has also toured and recorded with Eric Clapton, George Harrison, David Gilmour and John Mayer.
April 29:
Lonnie Donegan (Anthony James Donegan) (April 29, 1931 – November 3, 2002), British singer, songwriter and musician who launched the skiffle craze. Influenced 60's British pop musicians. Britain's most successful and influential recording artist before The Beatles. Member 'Most Excellent Order of the British Empire' (MBE). Known in the USA for 'Does Your Chewing Gum Loose It's Flavor On The Bedpost Overnight' and 'The Rock Island Line'. Many more UK hits.
Duke Ellington (Edward Kennedy Ellington) (April 29, 1899 –May 24, 1974), Jazz Legend composer, bandleader, pianist. Worked with Louis Armstrong, Ella Fitzgerald, Dizzy Gillespie, and Billie Holiday.
Carl Gardner (April 29, 1928 – June 12, 2011), Singer and Rock Hall inductee best known as the foremost member and founder of The Coasters. His (and their) late 50's songs include Yakety Yak and Charlie Brown.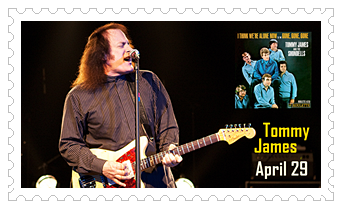 Tommy James (April 29, 1947), Band leader of Tommy James & The Shondells. Had the #1 singles 'Hanky Panky', and 'Crimson ' and the hit 'I Think We're Alone Now' and others.
Willie Nelson (April 29, 1933), Country music singer and songwriter, has acted in over 30 films, co-authored several books, and has been involved in activism for the use of biofuels and the legalization of marijuana. Along with Neil Young and John Mellencamp, he set up Farm Aid in 1985 to assist and increase awareness of the importance of family farms. He wrote the country classic 'Crazy' a hit for Patsy Cline. He has a line of marijuana products today, 'Willie's Reserve' (you know that you gotta look!)
Francis Rossi (May 29, 1949), English singer, songwriter and musician. Co-founder, lead singer and lead guitarist of the Status Quo who had the hit 'Pictures of Matchstick Men'. Member Order of the British Empire (OBE).
Otis Rush Jr. (April 29, 1934 – September 29, 2018), American blues guitarist and singer-songwriter. Distinctive guitar style became known as West Side Chicago blues and was an influence on many musicians, including Eric Clapton. Had the #6 R&B hit 'I Can't Quit You Baby'.
April Stevens (Carol LoTempio) (April 29, 1936 ), Singer who with brother Nino Tempo (LoTempio) had the 1963 US No.1 'Deep Purple' and other hits.
Tammi Terrell (Thomasina Winifred Montgomery) (April 29, 1945 – March 16, 1970), Star singer for a series of duets with singer Marvin Gaye in the 60's. Collapsed into Gaye's arms as the two performed at Hampden–Sydney College in Virginia on October 14, 1967. Diagnosed with a brain tumor. Died on March 16, 1970 at the age of just 24.
Klaus Voormann (April 29, 1938), German artist, musician, and record producer. Played bass with Manfred Mann and was a member of the Plastic Ono Band. Also played on albums by Lennon, Harrison, and Ringo Starr. Designed album covers for the Beatles, Bee Gees, and other important artists. Won a Grammy for the Beatles Revolver album artwork.
Carnie Wilson (April 29, 1968), is an American singer and television host, perhaps best known as a member (with sister Wendy and Chynna Phillips) of the pop music group Wilson Phillips. Daughter of Brian Wilson of The Beach Boys and of his first wife, former singer Marilyn Rovell of The Honeys.
April 30:
Johnny Horton (April 30, 1929 – November 5, 1960), Country music and rockabilly singer who had the Grammy Award winning 1959 #1 single 'The Battle Of New Orleans' which was also the #1 country single of 1959. Had other hits as well. Died in a car accident.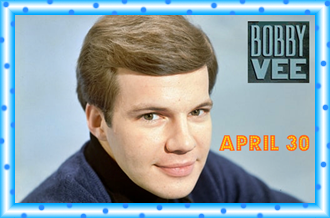 Bobby Vee (Robert Thomas Velline ) (April 30, 1943 – October 24, 2016), Singer, song writer, actor, and teen idol who had 10 Top 20 and 6 Gold singles. Rockabilly and Hit Parade Halls member.
Credits: Content is an aggregation from ThisDayInMusic.com, Wikipedia, and MeTV.fm. Some photos are from the free stock photo website 'Pixabay.com'.